Summary Report on the Crime of Live Organ Harvesting in China by the World Organization to Investigate the Persecution of Falun Gong (WOIPFG)-Chapter 10, 11
Summary Report on the Crime of Live Organ Harvesting in China by the World Organization to Investigate the Persecution of Falun Gong (WOIPFG)-Chapter 10, 11
August 4, 2016
IV. Multi-organ Transplantation Experiments with Human Bodies
Throughout the course of the persecution of Falun Gong, aside from state-sanctioned organ harvesting, the CCP has conducted extensive psychological tests on the dying process, drug tests, other human subject tests and even autopsy lectures using Falun Gong practitioners. The CCP has even gone as far as making the bodies of Falun Gong practitioners, including the remains of practitioners who were tortured to death, into scientific specimens using the method of "plastination." These plastified bodies and body parts were then displayed in major cities around the world in profit-driven body exhibitions.
The figures referenced in this chapter provide evidence from a different perspective demonstrating that the total number of victims slaughtered in fact must exceed 2 million.

The World Organization to Investigate the Persecution of Falun Gong (WOIPFG) discovered that the CCP is suspected of conducting human subject tests using a great many Falun Gong practitioners. One of the key figures involved is Wang Lijun, former deputy mayor of Chongqing and former chief of the Public Security Bureau of Chongqing municipality.
On February 6, 2012, Wang Lijun abruptly visited the U.S. Consulate in Chongqing requesting political asylum, but Wang's request was denied. News about this incident made Wang Lijun well known worldwide.
According to exclusive information fromEpoch Times, an independent newspaper headquartered in New York, Wang may have handed over intelligenceabout the CCP to U.S. authorities at the consulate, includingclassified information on organ harvesting from Falun Gong practitioners. On the afternoon of April 25, 2012, word spread that the U.S. State Department had held a briefing at the House of Representatives that morning, and Wang Lijun's attempt to seek political asylum was reported to members of congress.[1]
The U.S. government has yet to disclose what information Wang Lijun passed to officials at the US consulate in Chongqing regarding the persecution of Falun Gong. An independent investigation conducted by WOIPFG shows that Wang Lijunparticipated in a great number of human subject tests using Falun Gong practitioners.
1. Jinzhou City Public Security Bureau On Site Psychological Research Center[2]:

The Center conducted"Research on Organ Transplantation from Donors Who Have Been Subjected to Drug Injections" using thousands of living candidates; a doctor whose ranking is equivalent to a general officer from the PLA 205 Hospital who cooperated in this research admitted using organs from Falun Gong practitioners
In May 2003, Wang Lijun was reassigned to Jinzhou City, Liaoning, and took on the positions of chief of the Public Security Bureau, and Party Committee Secretary. At the time, Bo Xilai held the titles of vice secretary of the Liaoning Provincial Party Committee, and Governor of the province. Wang worked under both the Ministry of Public Security and Provincial Party Committee. Shortly after Wang took office, he established the "On Site Psychological Research Center," a facility operating under the Jinzhou Public Security Bureau. Wanghad no medical background, an education level of only middle school, and was formerly transferred from positions in the military, yet he became the director, professor, researcher and a forensic expert at this research center. China's CCTV news report from 2004 states that this is "the only onsite psychological research center under the Chinese police system" and it is administered by the most senior police administrators of the CCP.[3]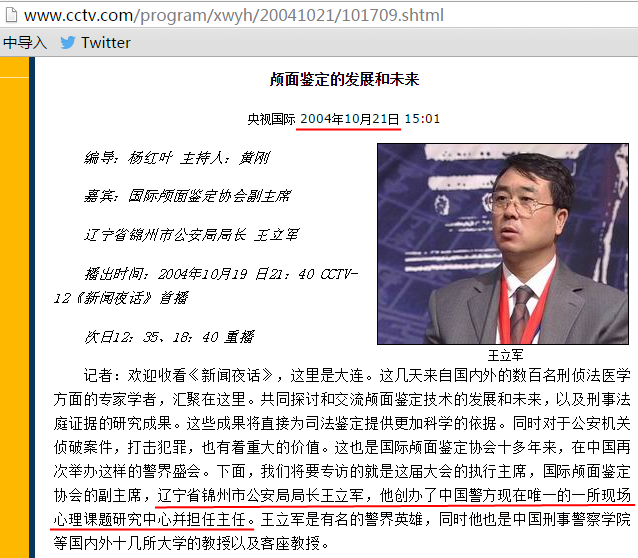 Figure 10.1 Snapshot of the article published on CCTV's International Channel
In 2008, Wang Lijun was reassigned to Chongqing and the research center in Jinzhou disappeared along with Wang's reassignment. Meanwhile, Wang in cooperation with Southwest University established the "Southwest University and Chongqing Public Security Bureau Onsite Psychological Research Center." Wang assumed the title of director of the center. After his arrest in 2012, this research center in Chongqing disintegrated. Apparently, these "research centers" were directly linked to Wang Lijun himself, instead of being associated with any province or city.
According to WOIPFG's investigation, the On Site Psychological Research Center (OSPRC) performed "research" on human subjects awaiting execution, with the aim of studying the dying process. Such "research"included "a person's psychological changes when facing death," "changes in vital signs"[4]and the toxic residuals in different organs after lethal injection. These victims might have been killed by lethal injection and/or the direct excision of human organs.
On September 17, 2006, Wang Lijun and his OSPRC's "Research on Organ Transplantation from Donors Who Have Been Subjected to Drug Injection"[5]were awarded the "Guanghua Innovation Special Contribution Award"by the China Guanghua Science and Technology Foundation,[6]along with a research grant of 2 million yuan (US$300,000).[7] Both the secretary of theGuanghua Foundation, Ren Jinyangand Wang Lijun spoke at the award ceremony. Their speeches revealed that the research center had used several thousand living candidates to conduct executions and organ transplants. The subject of their research included a new fluid formula for organ preservation used on organs taken from bodies executed through lethal injection.
At the award ceremony for the Guanghua Innovation Special Contribution Award, Ren Jinyang saidin his speech, "Professor Wang Lijun and the Research Center conducted basic research and clinic trials to study how to resolve the challenging issue, which is that the organ transplant recipients are generally not very receptive to organs injected with drugs. They have created a brand new preservation solution, which is used to provide a perfusion treatment for livers and kidneys previously subjected to drugs. After animal tests, in vitro experiments and clinical trials they have achieved an important milestone where the recipient's body is able to accept the liver and kidney after such a treatment."[8]
When talking about his research "achievements," Wang Lijun emphasized, "Our research site and our scientific and technological achievements are the crystallization of several thousand intensive onsite cases; they are the results of the painstaking efforts by so many of us…Jin Yang, the secretary-general of China Guanghua Science and Technology Foundation, and his staff were right there at our site, the very scene of our anatomization and the very spot of transplanting organs into the recipients.As a police officer with years in the service, when I see that the life of an executed prisoner is extended in the bodies of several people in merely minutes, I still feel blown away."[9]
According to Amnesty International, from 2000 to 2005, the average annual number of executions of death row prisoners in mainland China was 1616.[10] By December 31, 2004, China had 333 prefecture-level cities. Where would sucha small city like Jinzhou find several thousand human test subjects for onsite drug injections?
Jinzhou On Site Psychological Research Center states in its overview that Beijing University, China Medical University, and the PLA 205 Hospital all participated inits "Organ Transplantation from Donors Who Have Been Subjected to Drug Injection" research.[11] In May 2012, using the name the "Special Investigation Team on Wang Lijun" WOIPFG conducted a telephone interview with Chen Rongshan, chief of the Urology Department of the PLA 205 Hospital.Chen Rongshanconfirmed that donor organs come from detained Falun Gong practitioners.[12]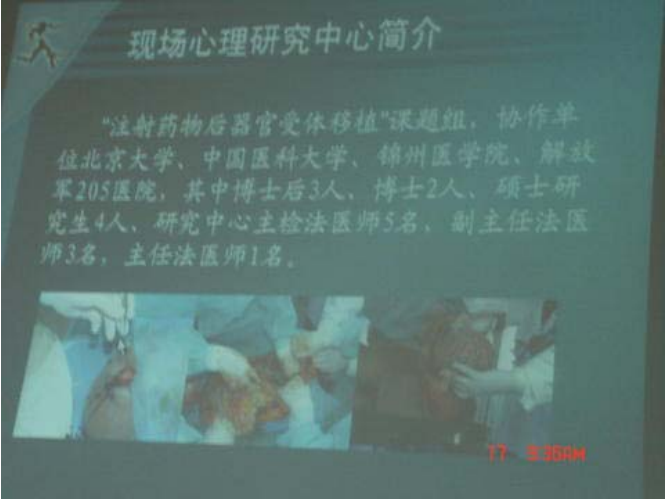 Figure 10.2 Overview of Jinzhou On Site Psychological Research Center indicates that Beijing University, China Medical University, and PLA 205 Hospital participated in Organ Transplantation from Donors Who Have Been Subjected toDrug Injection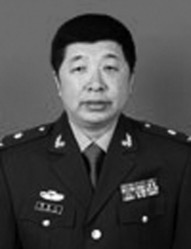 Figure 10.3 Former chief physician of the Urology Department of PLA 205 Hospital, Chen Rongshan
The following is an excerpt from the recorded conversation between the WOIPFG investigator, disguised as "a member of the Wang Lijun inter-departmental investigation team," and Chen Rongshan, retired chief physician of the Urology Department of PLA 205 Hospital of Jinzhou City(Recording Download:MP3)
Investigator: "Hello, is this former Chief Physician Chen Rongshan of the Urology Department of the PLA 205 Hospital?"
Chen: "Yes, yes, yes, who are you?"
Investigator: "I'm from the Wang Lijun inter-departmental investigation team.
Investigator: "When Wang Lijun was at the Jinzhou Public Security Bureau, he was in charge of the On-Site Psychological Research Center. The center had some joint projects with the PLA 205 Hospital. Can you tell me more about the projects?"
Investigator: "He had a project called 'Research on Organ Transplantation from Donors who have been subjected to Drug Injection.'The PLA 205 Hospital was their partner. Please tell me more about this project."
Investigator: "What I am asking is whether you have cooperated?"
Chen: "China Medical University also partnered with them."
Investigator: "Wang Lijun told us that some organ donors were jailed Falun Gong practitioners. Is that true?"
Chen: "Those were arranged by the court."
Investigator: "By the court, right?"
Chen: "Yes, yes."
2. An artificial invention that causes brain death, the "collision machine that causes primary brain-stem injuries"
Since assuming the title of chief of Chongqing Public Security Bureau, Wang Lijun conducted other human subject tests besides establishing the Southwest University and Chongqing Public Security Bureau Onsite Psychological Research Center. Notably, Wang held a patent for a "Collision Machine to cause primary brain-stem injuries," which he developed to cause brain death. The patent inventors are listed as Wang Lijun, Yin Zhiyong, Zhao Hui and Wang Zhengguo.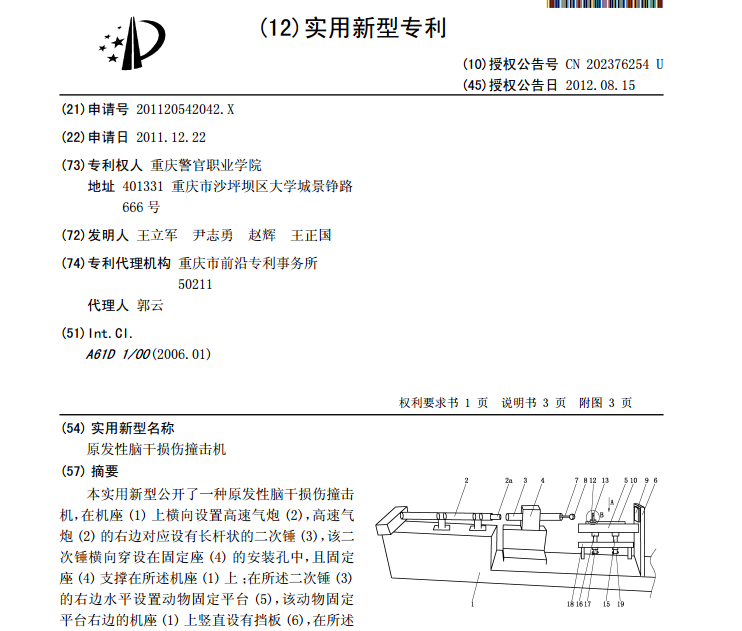 Figure 10.4 Part of the instruction manual on Wang Lijun's patented invention: "collision machine to cause primary brain-stem injuries"
Publicly available information on this patented invention states that this is "a utility model which could, to a considerable extent, accurately prepare medium-sized animals by causing them primary brain stem injuries."[13]Despite stating the device was designed for use on medium-sized animals, the first paragraph of the section on background technologies of this publicly available instruction manual states, "The brain-stem is a vital functioning center of the human body. Brain stem injuries usually mean severe head trauma. Primary brain stem injury refers to instantaneous injury caused by direct or indirect violence, and is often caused by a traffic accident, violent physical assault or a fall. Among those who sustain severe head trauma, about 53 percenthave a brain stem injury; and 70 percent of those who have a brain stem injury survive less than 48 hours. In all traumatic brain injuries, primary brain stem injury accounts for approximately 3 percent to 5 percent, but the death rate is as high as 71.1 percent." This is, without a doubt, a description of brain death for a human. The only conclusion one can draw is that this "collision machine to cause primary brain steam injuries" was designed to cause brain death in humans.
Co-inventors Yin Zhiyong, Zhao Hui and Wang Zhengguoof Daping Hospital of the No.3 Military Medical Universityjointly published an article in theJournal of Traumatic Surgery,in the second issue of 2008,titled "Quasi-static and Temporal Brain Injuries Caused by Collisions, Simulation Analysis and Its Clinical Significance."[14]The article confirms that this particular patented invention wasdesignedtoresearchbrain death inhumans, and stated, "as of October 2007, 12 'fresh heads'of just-dead corpses had been used for collision experiments. All the (head) donors were male, aged between 26 and 38, with an average age of 31."
The invention of this machine involved a process of using the prototype machine to crack human skulls and cause brain stem injuries. It was a process of slaughtering humans, because in truth using the"heads of just-dead corpses" for the collision experiments would not serve the purpose of studying the extent of brain stem injury in humans. Just like the "organ donors" noted throughout this paper, the collision experiments must havealso used living candidates.
3. Other human subject testing projects
According to the website of China Guanghua Science and Technology Foundation (CGSTF): "As the leader of Jinzhou On-Site Psychology Research Center (OSPRC) research team, Wang Lijun authored several academic papers, including "On Injury-Free Dissection," "A Study on Organ Transplant from Donors Who Have Been Subjected to Drug Injection"and "A Study on the Time Dependence of Intestinal and Gastric Excrement of Females from Northern China."[15]
As a police chief, for what purpose was he conducting research on the "Intestinal and Gastric Excrement of Females from Northern China?" And who were the subjects of his research?
4. Human subject research
WOIPFG believes that hospitals all across China are using Falun Gong practitioners as donors for organ transplant operations. Only some of these hospitals corroborated with Wang Lijun in conducting this human subject research. Where did these researchers manage to find their research subjects?
WOIPFG's investigation provided an answer to this question. On May 22, 2006, a WOIPFG investigator conducted telephone investigations with relevant government agencies under Wang Lijun's jurisdiction.A court officer from the Intermediate People's Court of Jinzhou City [the criminal court] told the investigator that they are still able to provide kidneys extracted from Falun Gong practitioners.[16]
In 2009, WOIPFG published testimony from an armed guard who had witnessed live organ harvestingfrom a Falun Gong practitioner. The witness had worked under Wang Lijunas a policeman at that time. He said that Wang had issued a strict order to the police that with regard to Falun Gong "we must arrest them all and kill them all."[17]
WOIPFG's investigation indicates:
1. China has become the largest exporter of plastinated human body specimens[18]
There are several dozen human body plastination factories in China. Among these, the Von Hagens factory and Sui Hongjin's Dalian Hoffenlocated in Dalian City are the largest. The other factories amount to only 10 percent of the business.[19]
Oriental Outlook Weekly reported on November 24, 2003, that Von HagensPlastination Co., Ltd, a German-owned enterprise, has over the course of four years, sold many human specimens made from Chinese corpses to the rest of the world, reaping hundreds of millions of dollars in profit.[20]
From 2004 to the end of 2012, multiple human body exhibitions run by Sui Hongjin appeared in more than 60 cities in over 20 countries. Exactly how many Chinese bodies had by Sui Hongjinplastinated and sold overseas?
2. Several dozenplastination factories in China established after the persecution of Falun Gong begun received support from CCP officials at various levels
China's several dozenplastination factories were only established after the persecution of Falun Gong launched in 1999. Von HagensPlastination Co., Ltd and Dalian Hoffen were the earliest factories.
1) Bo Xilai, then Mayor of Dalian City, approved and commended the establishment of Von Hagens'splastination company
In August 1999, one month after the CCP launched the persecution against Falun Gong, the Dalian municipal government approved Von Hagens application to invest $15 million in building a solely foreign-owned enterprise, Von HagensPlastination Ltd[21] in Dalian's Hi-tech Zone.[22]In September 1999, at the Xinghai Friendship Award ceremony, Bo Xilai, the then mayor of Dalian City, presentedan award certificate and medal to Von Hagens.
2) Sui Hongjin established a separate factory and received support from CCP officials at various levels
In 2000, the Ministry of Health and Chinese Association of Science and Technology approved Sui Hongjin's application to hold China's first plastinated human body exhibition and "The Body World Exhibit," was scheduled for launch in 2004.[23]On June 21, 2002, with fervent support from Dalian Medical University, Sui Hongjin established his own business.[24] Sui registered a university-owned enterprise, Dalian Medical University Plastination Co. Ltd.[25]
In January 2004, Sui Hongjin expanded his operations and established Dalian Hoffen Bio-Technique Co., Ltd., where he served as chairman of the board.[26]
According to Window of the Northeast, a magazine affiliated with the Dalian municipal Party Committee,[27] "Sui Hongjin was very encouraged by the enthusiastic support for the "Body World Exhibit" from officials of all levels. Wu Jieping, then Vice Chairman of the National People's Conference, wrote the name of the exhibition in Chinese calligraphy. XueShepu, member of Chinese Academy of Sciences, and chairman of Chinese Anatomy Society wrote the introduction for the literature that accompanied the exhibition. During the exhibition, Wu Yi, then vice premier of the State Council, asked officials from the Ministry of Health to attend the exhibition to provide guidance and conduct field research.[28]
3) The CCP Publicity Department and the Ministry of Health took steps to mitigate "social controversy" surrounding Sui Hongjin's exhibition
On January 1, 2004, the "Plastinated Human Body" exhibition provided by the Dalian Medical University[29] quietly opened at the Museum of Natural History in Beijing. It was not well received by the public and was commonly called the "corpse exhibition." Even the media, controlled by the Central Propaganda Department and that is only allowed to "speak with one voice", expressed different opinions about the exhibition.[30] Four months later, on April 8, 2004, amidst wide spread controversy,Sui's "Body World,"which was sponsored by the Chinese Society for Anatomical Sciences, officially opened. Compared to its previous low profile appearance at the Museum of Natural History, there was much pomp this time. The Body World exhibition planned to tour the country for four monthswith Beijing as the first stop.[31]
A reason behind the fanfare was that Dalian Hoffen Biological Co., Ltd. was able to silence the controversy it had encountered after passing an onsite inspection by the Ministry of Health and the central Publicity Department.[32]
On June 11, 2004, Dalian Hoffen's "Body World" exhibition began its tour in South Korea. On August 8, 2005, Body World arrived in the United States.[33]
3. The mystery surrounding the source of the bodies: the Chinese Police
1) The human body plastination process requires "fresh cadavers" in their entirety that have not undergone any processes of preservation.
From all the lab reports, papers and notices that have been released to the public, it is clear that they all emphasized the use of "fresh" bodiesfor the "plastination" process. Because plastination requires fresh cadavers in their entirety that have not undergone anypreservation.
On December 29, 2001, Hagens received an encrypted email from Sui Hongjin, who served as the manager of Hagen'splastination factory in Dalian, China. The email read, "This morning, two fresh, top quality corpses arrived at the factory. Their livers had been removed only a few hours ago."[34]
2) According to Gunter von Hagens, you can't get any donated bodies in China
On Oct. 21, 2003, Hagens received an email from a subordinate, "So far, we haven't received any donated bodies in China."[35]
On Aug. 17, 2012, Gunter Von Hagens' son told Deutsche Welle that until then they had received only one Chinese cadaver.[36]
3) Most "fresh cadavers" were obtained through the Public Security Bureau, the Procuratorate and the legal systems
In 2004, the German news magazine Der Spiegal obtained evidence[37]through onsite inspection, confirming that in the "fetus and infant database" maintained by the Von HagensPlastination factory in Dalian, there was a detailed record of a nine-month-old fetus. The "origin" of the fetus was clearly written as "Public Security Bureau." But how could a nine-month-old fetus end up with the Public Security Bureau?
A May 2008 settlement with the attorney general of New York obliged Premier Exhibitions, Sui Hongjin's exhibition partner, to publish a disclaimer on its website and at the exhibition hall.[38] The disclaimer reads, "This exhibit displays human remains of Chinese citizens or residents which were originally received by the Chinese Bureau of Police," and "Premier cannot independently verify that the human remains you are viewing are not those of persons who were incarcerated in Chinese prisons."

Figure 10.5 Premier Exhibitions, Inc. Publishes Disclaimer on its Website
4) Sui Hongjin stated that none of the corpses were from donors or executed prisoners, and that some corpses were from the Dalian Public Security Bureau
The Southern Metropolis Daily conducted face-to-face, telephone and email interviewson August 17, 20, and 21, 2012 respectively with Sui Hongjin. During the interviews, he said, "In fact, none of the cadavers were from executed prisoners. Since the first day of Dalian Hoffen, we have never used any such corpses!" Sui Hongjin said, "So far none of the bodies we use for plastination are from donation."[39]
In 2012, WOIPFG investigator conducted a recorded investigation with Sui Hongjin, who said that some "corpses" were from the Dalian Public Security Bureau.(Download recording:MP3)
Investigator: "What is the main source of the corpses your company used?"
Sui: "A few dozen were from the Public Security Bureau. That's it, from the Public Security."
Among Sui's plastinated specimens, one is a standing female specimen with abdominal cavity exposed, showing a three-month old fetus. According to Chinese law, pregnant women cannot be given the death penalty. Even if this woman died in a car accident, her family would never allow their loved ones' bodies to be made into human specimens. But according to Sui Hongjin, all specimens could only have come from the police bureau. So what really happened?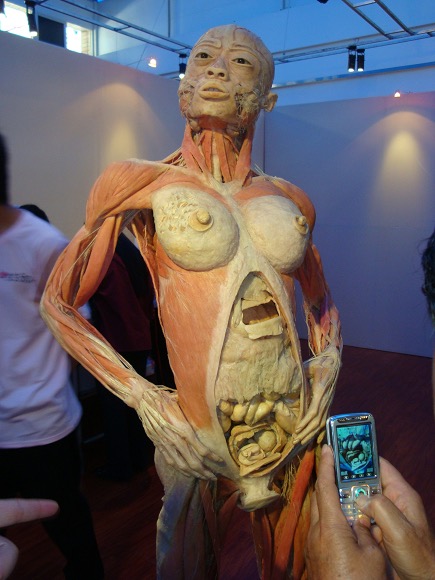 Figure 10.6Full Body Female with Fetus
4. Investigation shows that some cadavers were Falun Gong practitioners
WOIPFG's telephone interviews uncovered that some human specimens came from Falun Gong practitioners.
1) Investigation conducted on the deputy mayor of Dalian, Sun Guangtian:
On September 18, 2012, a WOIPFG investigator, disguised as the secretary of Xia Deren, the deputy secretariat of Liaoning's Provincial Party Committee, conducted an interview with Sun Guangtian, the incumbent deputy mayor of Dalian, who served as chief of Dalian Public Security Bureau from 2000-2003. The interview focused on collecting evidence about the involvement of BoXilai and his wife GuKailai in selling the corpses of Falun Gong practitioners:(Download recording:MP3)
Investigator:"This is the secretary of deputy secretariat Xia Deren of the provincial Party committee of Liaoning. Secretariat Xia asked me to pass on a message to you."
Sun Guangtian:"Go on."
Investigator:"Many things have happened, and no matter what, you cannot disclose that BoXilai's wife GuKailai is involved in selling the corpses of Falun Gong practitioners…"
Sun Guangtian:"Mmm. What else do you want to say?"
Investigator:"Secretariat Xia would like you to pass on the message to relevant insiders who worked at Dalian Public Security Bureau at the time that they need to be careful not to leak this information."
Sun Guangtian:"Please tell Secretariat Xia that he can trust me to carry this out."
2) Investigation conducted on a director of the "610 office" in Ji County, Tianjin:
In September 2013, Director Zhao of the "610 office" in Ji County, Tianjin admitted that Bo Xilai's wife, GuKailai, was involved in stealing and selling the organs and cadavers of Falun Gong practitioners.(Download Recording:MP3)
Investigator: "Do you know that you guys are a criminal group?"
Zhao: "I am [610 Office]. Who are you?"
Investigator: "Once the persecution ends, have you ever thought about what will happen to you? See what happened to GuKalai [the wife of Bo Xilai]?"
Zhao: "GuKalai was selling organs of Falun Gong practitioners."
Investigator: "Yes, she had two human cadaver plastination factories in Dalian. She sold plastinated full-body cadavers for one million U.S. dollars each; the cadavers without internal organs were sold for $800,000 USD. What a devil."
Zhao: "What she sold were not all from Falun Gong practitioners."

III. Many hospitals use the "fresh corpses" of healthy young people to perform simulated liver transplant experiments
From January 1999 to August 2006, Weifang People's Hospital in Shandong Province performed at least 35 liver excisions from "fresh corpses" with modified methods, including five piggyback orthotopic liver transplant operations, four liver transplant surgeries using the classic technique, and 26 simulated liver transplant experiments. All the liver "donors" were male and aged between 19 and 43.[40]
As of 2002, the Second Affiliated Hospital of Harbin Medical University performed applied anatomy research on the subject of splitting liver transplantation with 58 Formalin-fixed adult livers and eight fresh livers.[41]As of 2004, this hospital had performed anatomy research regarding regions of the duodenum, the lower segment of the common bile duct, and Vater ampulla by using 30 Formalin-fixed adult human corpses and 10 fresh cadavers.[42]
IV. Multi-organ Transplantation Experiments with Human Bodies
Tan Jianming is the deputy head at Fuzhou General Hospital of Nanjing Military Region, the director of the Urology Department at this hospital, the director of the PLA's Organ Transplant Research Center and a key administrator overseeing the establishment of the national-level clinical transplant department.He performed at least 40 cases of human pancreatic islet cell transplantation in a little more than two years. He had experimented with several hundred mice and was a pioneer in constructing the rat model of diabetic nephropathy in Asia. Unexpectedly, when he tried to apply the same technique on the human pancreas, he encountered numerous failures. The first challenge in the pancreatic islet cell transplant is to separate islet cells by using a cell separator and special enzymes to extract islet cells with sufficient concentration and vitality from the donor's pancreas.
In the second half of the year 2002, his research took a nosedive, with more than 40 human pancreas experiments failing one after another. However, Tan Jianming persisted. At the end of 2002, he finally succeeded in the separation of human pancreatic cells, and a series of challenges were overcome thereafter, such as the digestion of the adult pancreas, islet cell separation, and the purification and effective treatment of the cells. In early 2003, Tan performed a pancreatic islet cell transplant surgery as chief surgeon on a 13-year-old diabetic patient.[43]
The CCP has never stopped slaughtering the Chinese people since it was first appeared in China in 1921, and it became ever more brutal after it came to power on October 1, 1949. Its political movements have been de facto genocides where the targeted groups were subjected to both smear campaigns and physical eradication. According to estimates, over half of China's population has at some point in history been victims of the CCP's persecution campaigns, and anywhere from 60 to 80 million people have perished from unnatural causes during the process. This figure exceeds the total casualties of the two world wars during the 20th Century. The massacre of Falun Gong practitioners, primarily through the means of harvesting organs, has occurred in the context of the CCP's history of killing, indoctrination, political culture and its warped social environment.
Those who do not know about the CCP may not understand why the CCP would start using the entire state apparatus to slaughter Falun Gong practitioners on such a large scale after Jiang Zemin issued the orders. This is in fact determined by the CCP's cult nature. Killing is one of the CCP's means of maintaining its rule, and it uses violence to terrorize people into submission. So there is no rule to follow as who should or should not be killed. We suggest that everyone read the Nine Commentaries on the Communist Party[44] to learn about the CCP's true nature.
A brief review of the CCP's killing record throughout its various political campaigns during its 65-year rule will help provide context to the CCP's massacre of harvesting organs from living Falun Dafa practitioners.
1. Harvesting a kidney from political prisoner ZhongHaiyuan for the child of a high-ranking official
In 1975, ZhongHaiyuan, a teacher at Jingfengshan Elementary School in Ganzhou City, Jiangxi Province, was held in custody for supporting Li Jiulian, a so-called reactionary. She was designated a reactionary too and given a death sentence, as she pleaded not guilty.
On April30, 1978, Zhong was paraded on the streets, hands tied behind her back and then executed. The executioner shot her on the right side of her back on purpose instead of her heart, so that she would not die immediately. Medical staff had been waiting to the side. They rushed to her body, carried it inside a military vehicle and excised her kidney on a makeshift operating table.[45]
The organ was quickly transplanted into the child of a high-ranking official who had been waiting for the operation at No.92 Field Hospital in Nanchang City.
2. The 1984 Provisional Regulations on harvesting organs from death row inmates issued by six ministries
On October 9, 1984, the CCP's Supreme People's Court, the Supreme People's Procuratorate, the Ministry of Public Security, the Justice Ministry and the Health Ministry jointly issued the Provisional Regulations on Using the Corpses and Organs of Death Row Inmates,[46] legalizing forced organ harvesting from death row prisoners, which on a legal level, violates international conventions.
According to Soho Watch, harvesting organs from healthy young death row inmates by abusing the principle of voluntary donations has long been an unspoken rule in China's judicial administrations.[47] In 1998, up to 3,596 kidney transplants were performed, which in itself was proof of the CCP's wanton harvesting of organs from living death row inmates.[48]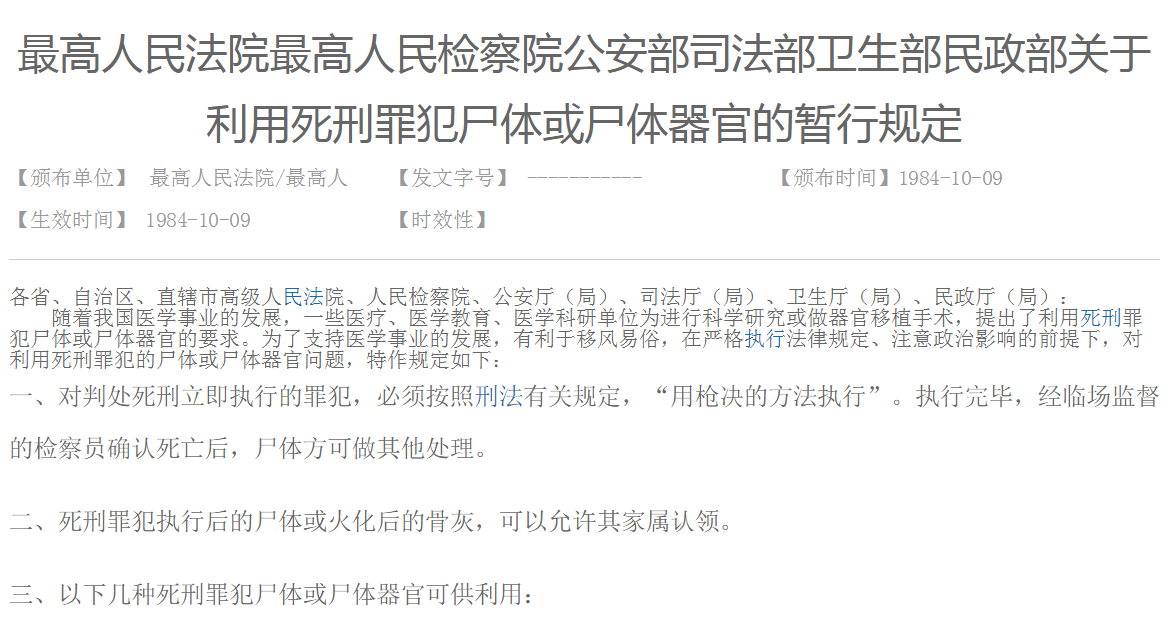 Figure 11.1: Screenshot of CCP's Provisional Regulations on Using the Corpses and Organs of Death Row Inmates
3. Widespread indiscriminate killing of death row inmates
China's traditional culture necessitates the deceased be respected, and the dead body should be kept in its entirety. So the corpse was rarely insulted, and this is also the main cultural reason that few Chinese are willing to donate their organs. Since the CCP believes in atheism, it takes organs not only from death row inmates but also from those who are not guilty or whose crimes are not punishable by death.
Two well-known cases have been circulating recently on the Internet. One is the NieShubin case, in which Nie was sentenced to death for rape despiteinsufficientevidence. It was believed that he was given a death sentence just because his organs matched well with those of a high-rankingCCP official. Later the darkness was lifted only when the real perpetrator, Wang Shujin, emerged. However, the judicial administration in Hebei Province refused to confirm the validity of the detailed confession by Wang Shujin and refused to rectify Nie's case. The prosecutor's defense for the real perpetrator of the Nie case was exposed as a mockery of the justice system.[49]
The second major case is that of Xia Junfeng, a street vendor. City inspectors beathim up, and to defend himself Xia killed the two inspectors, for which has was given a death sentence. Jurists, lawyers and public opinion in China agreed that Xia did not deserve to die for his crime. According to the Beijing News (Xin Jing), a local newspaper, when Xia's wife Zhang Jing received what Xia had left her from the prison, the package contained the clothes Xia wore when he met his family for the last time on September 25. She murmured to herself, "What was he wearing when he left?"[50]
Like that of Nie's case, Xia's execution date was issued months before his actual execution date. It is believed that this lapse is used for seeking a suitable organ buyer and to arrange for the transplant operation.
4. Forced organ harvesting from other disadvantaged groups
In November 2013, Phoenix Weekly, a Hong Kong magazine, published a report titled "The Veiled Reality of the Body Organs Trade in China."The article stated, "In the past decade, travel to China for organ transplant has become increasingly popular. In China, organs seem to be available all the time with very little waiting time needed; and matching procedures are done quickly." Medical professionals around the world believe that there must be massive underground organ banks in China, even banks where organs are harvested from living people. In other words, "there must be organ suppliers whose blood has been tested, blood types and other matching tests completed and filed beforehand, and who would be taken to the 'hospitals' (i.e. slaughterhouses) on demand. That is the only way to guarantee the uninterrupted availability of organs which can be supplied on extremely short notice."
The article explicitly stated, "Falun Gong practitioners who have no legal protection in China, prisoners in China's labor camps, social refugees and abducted women and children are all vulnerable targets of this underground organ trade organization."[51]
Through two years of investigation, Ethan Gutmann, a prominent U.S. investigative writer and China watcher, interviewed Uighur policemen, and Chinese doctors and nurses whose statements help to verify that the CCP began harvesting organs from Uighur dissidents and civilians decades ago.
However, as copious evidence in our report indicates, the scale and magnitude of organ harvesting fromliving Falun Dafa practitioners far exceeds the scale that the CCP had committed in the past; this is a state-sanctioned action ordered by Jiang Zemin, rather than isolated crimes of illegal organ trade. Random individuals cannot possibly carry out organ harvesting on such a massive scale, as in the case of Falun Gong.
From a brief review of all the CCP's previous political movements after it established its regime, we can see that the CCP's actions are wanton acts against humanity, because during every political campaign, it employed a "genocidal" policy.
1. "Suppression of the counter-revolutionaries and land reform"
After the CCP seized power in 1949, in March 1950, it issued the Orders to Strictly Suppress the Counter-revolutionary Elements, which is historically known as the "suppression of the counter-revolutionaries."
The CCP even stipulated a killing ratio. Mao instructed party leaders in a CCP internal document that "in rural areas, the number of counter-revolutionaries killed should exceed 1/1000 of the total population…in the cities, it should be less than 1/1000 in general."
At the end of 1952, the CCP officially published the number of executed "counter-revolutionary elements" as exceeding2.4 million. From county magistrates to local jiazhangs(leaders of 10-family units in rural China), the actual number of local administrators, public servants and teachers from the former Nationalist Party government and landowners, who perished in this movement, was at least 5 million. As for those who perished in the land reform movement, according to Mao, the figure is between 2 million and 3 million. John F. Fairbank, a prominent American academic and historian on China, estimated the figure to be over 1 million.
2. The "Three-Anti Campaign", "Five-Anti Campaign"and "Elimination of the Counterrevolutionaries"
The "Three-Anti Campaign" began in December 1951, and the "Five-Anti Campaign" began in January 1952. According to Facts of the Political Campaigns after the Founding of the People's Republic of China, during the "Three-Anti Campaign" and "Five-Anti Campaign," more than 323,100 people were arrested and over 280 committed suicide or disappeared. In the subsequent "Elimination of the Counterrevolutionaries" movement, over 21,300 people were executed, and over 4,300 committed suicide or disappeared.
The Cultural Revolution was formally launched on May 16, 1966, and lasted until 1976. This period has been called the "Ten-Year Catastrophe."Facts of the Political Campaigns after the Founding of the People's Republic of China reported that, "over 4.2 million people were detained and investigated; over 1,728,000 people died of unnatural causes; over 135,000 people were labeled as counter-revolutionaries and executed; over 237,000 people were killed and over 7.03 million were disabled or injured in armed attacks; and 71,200 families were entirely destroyed."
Statistics compiled from county annals by experts show that 7.73 million people died of unnatural causes during the Cultural Revolution. According to Japanese media reports, the statistical data collected on the orders of the CCP's Central Committee confirmed that the Cultural Revolution brought disaster to 600 million Chinese people.
From the evening of June 3 to the early morning of June 4, 1989, the CCP ordered its troops to open fire on the peacefully demonstrating citizens and students on Beijing's Tiananmen Square and in the surrounding streets. The CCP's military dispatched tanks to chase the students to compel them to leave the square. This incident is known as the "June 4th Massacre" or the "Tiananmen Square Massacre."
Till this day, the CCP still hasn't released information on how many people died during the "Tiananmen Square Massacre." On December 12, 1996,an editorial fromTennessee Tribunein the US quoted the International Red Cross's estimates that "on the night of June 4, 1989, at least 3,700 people were killed."
On the eve of June 4, 2014, a confidential file held at the White House was exposed. It was revealed that through its informant within the CCP's martial law troops, the U.S. government learned that the CCP's internal assessment estimated 40,000 casualties, including 10,454 people killed, during the "Tiananmen Square Massacre."
5. "The Persecution of Falun Gong Practitioners"
The scale of this genocidal persecution against Falun Gong practitioners, which is still ongoing, is the largest in human history. Hundreds of millions of people's freedom of faith has been suppressed, and hundreds of thousands are being illegally detained. Furthermore, the evil crime of organ harvesting, something unprecedented in history, continues to take place.
---