Investigative Report on the Persecution of Falun Gong by Shan Chengfan
Investigative Report on the Persecution of Falun Gong by Shan Chengfan
Deputy Director of the Department of Justice of Liaoning province, Director of the Prison Management Bureau of Liaoning province
December 28, 2020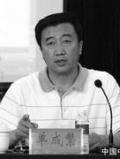 Full Legal Name of Perpetrator: Shan (last name), Chengfan (first name) (单成繁)
Gender: Male
Country: PR China
Title or Position: Deputy Director of the Department of Justice of Liaoning province, Director of the Prison Management Bureau of Liaoning province, Chinese Communist Party Secretary of Liaoning province (Feb 2012 – Jan 2016)
Date/year of Birth: June 1956
Summary of Evidence
Many labor camps and prisons notorious for persecuting Falun Gong practitioners are located in Liaoning province. Masanjia Women's Labor Camp, Shenyang Prison City (including Liaoning Women's Prison, No. 1 Prison of Shenyang, etc.), Panjin Prison, Dalian Nanguanling Prison, Benxi Xi Hu prison, Shenyang Dong Ling Prison, etc.
Over 90 Falun Gong practitioners were persecuted to death in Liaoning province because they refused to give up their belief, as of the end of 2015. Among them, 52 died in police custody. Forty-seven died after posting bail or being released. Approximately 20 Liaoning Falun Gong practitioners died as a result of the persecution since Shan Chengfan took his position as the Deputy Director of the Department of Justice of Liaoning province and Director of the Prison Management Bureau of Liaoning province in Feb 2012[1].
Case 1:
DONG, Huidi (董慧娣), Shenyang, Liaoning province, female, born in 1942
Ms. Dong Huidi, a Falun Gong practitioner from Magang Village, New Shenbei District, Shenyang City, was arrested on May 27, 2012 for distributing informational materials about Falun Gong to local villagers. Shortly after the arrest, police officers broke into her house and confiscated many of her personal belongings.
The court put her on trial on October 18, 2012, and sentenced her to three-and-a-half years in prison within only half an hour. Her family was not notified of the verdict.
She had already shown symptoms of high blood pressure and heart disease. Despite that, she was still taken to the Liaoning Province Women's Prison and detained in Ward 11.
Ms. Dong was near death when she was released from the Liaoning Province Women's Prison on September 27, 2015. She could not keep down food or water and was not in a sound state of mind.
She was tortured in prison because she refused to give up her belief and family visits were denied. However, shortly after, her family received a notice from the prison that allowed them to see her. She was in the prison hospital. Ms. Dong's family saw her handcuffed and shackled.
Officials from the prison extorted 3,000 yuan from them and said it was for medical expenses. According to the prison hospital, she was diagnosed with esophagus cancer.
Ms. Dong passed away at the age of 73 on October 19, 2015, after three years of being tortured in prison[2].
Case 2:
XU, Chunxia (徐春霞), Fushun City, Liaoning province, female, born in 1956
Falun Gong practitioner Ms. Xu Chunxia, 58, passed away on December 2, 2014, after one year in detention. Prison authorities demanded that her family not publish the news of her death. They also threatened them in attempt to get the name of the person who wrote the article about her situation, which was published on the Falun Gong website Minghui. They claimed that they would detain family members if they didn't cooperate.
Ms. Xu was taken to Shenyang No. 739 Hospital in critical condition on November 27, 2014, from Liaoning Women's Prison. Despite her condition, she was handcuffed and her feet shackled, even at the hospital.
Prison authorities contacted Ms. Xu's family to sign documents for her release, but her family refused to sign away their legal right to take legal action against the prison. The prison kept demanding their signatures on the parole paperwork. The two sides were deadlocked.
Ms. Xu was illegally arrested for distributing calendars containing information about Falun Gong on December 8, 2013. Six months later, she was sentenced to four years in prison and transferred to Liaoning Women's Prison on November 26, 2014. She had been detained earlier at Shenyang No. 1 Detention Center[3].
Case 3:
LIU, Luxiang (刘路香), Anshan City, Liaoning province, female, born in 1965
Ms. Liu Luxiang, 49, from Anshan City passed away on September 3, 2014, while serving a three-year prison sentence in Liaoning Women's Prison. She was sentenced for telling people about the persecution of Falun Gong.
Ms. Liu's family was notified of her death around midnight on September 3, 2014. They rushed to the prison the next day and were taken to the No. 739 Hospital, which is affiliated with the prison.
Ms. Liu was skin and bones, with one eye slightly open. All of her exposed skin was completely white.
The family could view the body for only a short while before the prison guards covered it with a cloth.
The guards claimed that Ms. Liu had died of illness. Ms. Liu's family demanded to see a medical report, especially since she was healthy before being admitted to the prison. The guards couldn't back up their claim.
The family asked to see the head of the prison, but were threatened with arrest for making trouble.
The family went to the appeals office and the Prison Management Bureau, but to no avail[4].
Ms. Xiong Suxiang (熊素香) was in the same prison at the same time as Ms. Liu. According to Ms. Xiong's account, Ms. Liu had a mental breakdown. Due to long-term persecution, she had reached her limit mentally and physically. She was sent to a small cell for additional persecution. A few days later, she was sent to the hospital. She was scheduled to be released in July 2015, but died in the late evening on September 3, 2014[5].
Case 4:
LI, Piyun (李丕云), Shenyang City, Liaoning province, male, born in 1949
Mr. Li Piyun from Shenyang City, Liaoning province passed away on October 31, 2014, at the age of 65, just 16 months after being arrested for expressing his belief in the peaceful meditation practice of Falun Gong. He was severely abused at the notorious Masanjia Prison until he became critically ill and had to be hospitalized.
Mr. Li was arrested on June 6, 2013, at a security checkpoint at Taoxian Airport. His crime was wearing a Falun Gong badge. He was sentenced to three years in prison and transferred to Masanjia Prison.
Shortly after the transfer, Mr. Li's family was told to come see him in the emergency room at Benxi Central Hospital. They saw that he had completely changed from how he was a month before, when the family last visited him at the detention center.
Mr. Li was skin and bones and had difficulty breathing. He had heart failure and his lower legs were swollen. He couldn't sit up. He had symptoms of hydrothorax, with fluid accumulating in the pleural cavity. He had been diagnosed with late stage lung cancer.
Even though Mr. Li was in critical condition, he was still shackled and was monitored around the clock by guards.
Mr. Li's family learned that he had been severely beaten twice and was deprived of sleep for a long time in an effort to force him to renounce his faith.
His family asked that he be released on medical parole, but was told that Falun Gong practitioners were not given medical parole.
To evade responsibility, the authorities finally released Mr. Li on medical parole when he was near death. His family paid close to 100,000 yuan in medical expenses. Mr. Li died at the hospital on October 31 2013, one month after his release[6].
Case 5:
LI, Shangshi (李尚诗), Panjin City, Liaoning province, male, born in 1948
Mr. Li Shangshi, 65, was illegally arrested in 2004 and sentenced to a 14-year prison term. He was first held in the Fushun City No. 2 Prison and later in the Shenyang City No. 1 Prison in 2008 and held in the strictly monitored division. He was persecuted to death on November 22, 2013.
Mr. Li's home was in the Longtai District in Panjin City. He was a former manager at the Panjin City Forest Products Industry Company. Back in March of 2000 he was sentenced to three-and-a-half years of forced labor for refusing to renounce Falun Gong.
Mr. Li's daughter, Ms. Li Hongshu, an employee of the Panyin City No. 1 People's Hospital, was sentenced to a ten-year prison term for practicing Falun Gong.
Mr. Li was taken to the Fushun City No. 2 Prison on September 28, 2004. Later, he was transferred to several different prisons. He was tortured in many ways and was forced to do hard labor. Once he was on a hunger strike for 28 days. He was tied to a death bed for force-feeding. His stomach was damaged by the feeding tube.
When Mr. Li was transferred to the Shenyang City No. 1 Prison in June 2010, he was put in a solitary confinement cell after he was shocked with electric batons. Division chief Dong Hexuan ordered the guards to give three practitioners little food and keep them in solitary confinement, including Mr. Li, since they refused to renounce Falun Gong. His family was not allowed to visit him[7].
Mr. Li was later transferred to the strictly monitored division. He vomited blood on November 22, 2013, and was taken to the prison hospital. He was then transferred to a regular hospital and died the same day.
-------------------------------------------------
Reference
[1] http://www.minghui.org/mh/articles/2016/4/29/326915.html (Chinese only)
[2] http://en.minghui.org/html/articles/2015/10/31/153455.html (Chinese original: http://www.minghui.org/mh/articles/2015/11/13/319058.html)
[3] http://en.minghui.org/html/articles/2014/12/12/147278.html (Chinese original: https://www.minghui.org/mh/articles/2014/12/10/301315.html)
[4] http://en.minghui.org/html/articles/2014/12/20/147379.html (Chinese original: https://www.minghui.org/mh/articles/2014/12/18/301659.html)
[5] https://www.minghui.org/mh/articles/2015/6/27/311503.html (Chinese only)
[6] http://en.minghui.org/html/articles/2014/12/8/147207.html (Chinese original: http://www.minghui.org/mh/articles/2014/12/4/301076.html)
[7] http://en.minghui.org/html/articles/2013/12/2/143466.html (Chinese original: http://www.minghui.org/mh/articles/2013/11/26/283162.html)