IRONCLAD IRREFUTABLE EVIDENCE (E-Book) II
IRONCLAD IRREFUTABLE EVIDENCE (E-Book) II
Dec.04, 2021
The second part is the investigation results from 2015 to 2020, including the investigations on military, armed police and regional organ transplant hospitals across China in-volved in the live organ harvesting. There is also the evidence obtained from the investigation conducted from December 2019 to January 2020 into the Xijing Hospital Affiliated with the Air Force Medical University. Ironclad and Irrefutable Evidence is a monograph that helps its readers comprehensively understand and thoroughly study the nature, scale and current situation of the CCP's crime of live organ harvesting.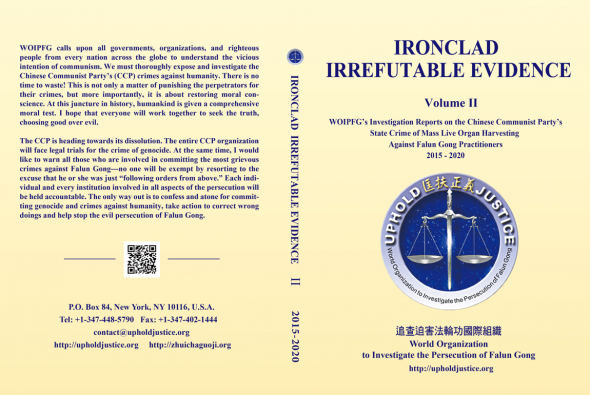 Download E-book: Ironclad Irrefutable evidence Book-2.pdf
On July 10, 2020, World Organization to Investigate the Persecution of Falun Gong (WOIPFG) updated and published the book Ironclad and Irrefutable Evidence. The book has two volumes, with the Chinese edition officially published in July 2020 and the English edition in July 2021.
  
The book Ironclad and Irrefutable Evidence is a collection of WOIPFG's key evidence amassed through more than a decade of investigation into the Chinese Communist Party's (CCP) crime of organ harvesting from living Falun Gong practitioners. It details the investigation background and information sources, and demonstrates the logical relationships among different pieces of evidence. The book contains 290 recorded audio testimonies and 764 pieces of data evidence. Among them, there is the evidence of the participation of some senior CCP officials and 45 presidents, directors and doctors from 41 organ transplant hospitals in organ harvesting from Falun Gong practitioners. The book also contains QR codes to access MP3 audio recordings, PDF files of recorded investigation transcripts and WOIPFG onsite investigation video recordings, so the readers can directly listen to the investigation recordings, read the transcripts and watch the videos by scanning the QR codes. This will help the readers quickly gain a deep understanding of the truth behind this major case in human history.
WOIPFG's investigation shows that the CCP's crime of organ harvesting from living Falun Gong practitioners has never stopped, and it continues to this day. Also, organ banks detaining living humans still exist in China, and the crime of "live organ harvesting" is spreading to the entire Chinese society. Moreover, the CCP's publicizing of the so-called organ black market in China is another way to cover up its evil crime of live organ harvesting and its operation of organ banks with living humans in them.
WOIPFG's New Book Ironclad and Irrefutable Evidence Release Announcement
http://www.upholdjustice.org/node/531
Links for book downloading
Volume One: http://www.upholdjustice.org/node/458 
Volume Two: http://www.upholdjustice.org/node/455
Ironclad and Irrefutable Evidence (Videos) 
https://www.upholdjustice.org/node/407
Book length and width: 23 X 17 CM
Number of pages: 200 pages for the Chinese edition; More than 240 pages for the English edition
For purchase, please contact Yiqum Bookstore, Taiwan 
Tel: 02-25533123 ext. 231; Email: yihchyun@ms54.hinet.net
Price: $2 / book (NT$68), and postage is extra. One set contains two books (Volume I and Volume II).
(The books are sold at cost. Editing, printing and distribution of the books are all voluntary services to benefit the society.)
World Organization to Investigate the Persecution of Falun Gong
Tel: 1-347-448-5790
Fax: 1-347-402-1444;
P.O. Box 84, New York, NY 10116
www.zhuichaguoji.org,http://zhuichaguoji.org