Investigative Report on the Persecution of Falun Gong by Zhao Leji
Investigative Report on the Persecution of Falun Gong by Zhao Leji
Secretary of the Central Discipline Inspection Committee
January 2, 2021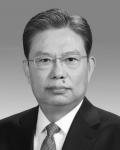 Full Name of Perpetrator: Zhao (last name) Leji (first name) (Chinese: 赵乐际)
Gender: Male
Country: China
Date/Year of Birth: March 1953
Place of Birth: Xi'an City, Shaanxi Province, China
Title or Position
Zhao Leji joined the Chinese Communist Party in July 1975. He graduated with a graduate degree from the Central Party School.[1]
August 1999 – January 2001: Acting Governor of Qinghai Province
January 2001 – October 2003: Governor of Qinghai Province
August 2003 – March 2007: Secretary of the Qinghai Provincial Party Committee of the Communist Party
March 2007 – November 2012: Secretary of the Shaanxi Provincial Party Committee
November 2012 – October 2017: The head of CCP's Central Organization Department
October 2017 -- Present: Member of the CCP's Politburo Standing Committee; Secretary of the Central Discipline Inspection Committee
Main Crimes
1. July 1999 – March 2007: Zhao Leji's involvement in the persecution during his tenure in Qinghai
Zhao Leji was part of the persecution campaign during Jiang Zemin's tenure and during the time when Zeng Qinghong was the head of CCP's Central Organization Department. In January 2001, Zhao Leji was promoted to Governor of Qinghai Province and was the youngest provincial governor to be promoted at the time. In August 2003, he was promoted again to the Communist Party Secretary of Qinghai Province. Qinghai is the CCP's top province for labor camps and imprisonment. During the early phases of the persecution, Jiang's faction allocated tens of millions of RMB to the construction of concentration camps used to arbitrarily detain and brutally persecute Falun Gong practitioners. Some of these concentration camps are suspected to be major facilities for the harvesting of organs from Falun Gong practitioners. On September 2nd, 2006, more than a hundred perpetrators of organ harvesting in China (medical professionals and government officials) gathered at Qinghai's sole five–star luxury hotel for the "2006 World Transplant Congress (WTC) – New Medical Techniques Conference." At the time, high–level officials including Jiang and Zeng frequently appeared in Qinghai, and Falun Gong practitioners in Qinghai were closely monitored and regularly arrested.[2] When Zhao began his political career in Qinghai, he became one of the main perpetrators in persecuting Falun Gong.
In December 2005, Zhao Leji gave an important speech at the 7th Plenary Session of the 10th Qinghai Provincial Committee of the CCP. During the meeting, he stated that the province needs to strictly guard against and crack down on Falun Gong.[3]
During Zhao Leji's tenure as acting governor and governor of Qinghai Province, and his tenure as Secretary of the Provincial Party Committee, a total of 9 Falun Gong practitioners were persecuted to death in the province.[4] However, because the prisons, labor camps, and secret concentration camps in Qinghai held a large number of Falun Gong practitioners from other provinces, and because the CCP kept the evidence of organ harvesting highly confidential, it is unclear how many people from other provinces were killed in Qinghai and those numbers are not included here.
A partial list of known cases of persecution to the death are as follows:
Case 1. Ms. Fan Lihong was persecuted to death at the Qinghai Women's Labor Camp after being injected with psychotropic drugs at a psychiatric hospital
Ms. Fan Lihong, a 27–year–old unmarried young lady, was arrested and detained at the Qinghai Women's Labor Camp. In May 2001, she was taken to a psychiatric hospital where she stayed until June. At the psychiatric hospital, police officers and doctors forced her to take psychotropic drugs, severely impairing both her mental and physical health. After leaving the psychiatric hospital, she became absent–minded and mentally unclear due to the psychotropic drugs given to her. In January 2002, her body was found at the Qinghai People's Park.[5]
Case 2. High school biology teacher, Ms. Tan Yingchun, was slaughtered in a labor camp
Ms. Tan Yingchun, a 46–year–old high school biology teacher and Falun Gong practitioner, was persecuted to death at the notorious Qinghai Women's Labor Camp on December 29, 2002. Prior to her death, a Falun Gong practitioner who was illegally detained there observed that Ms. Tan's thighs had been severely injured. Another Falun Gong practitioner who was also imprisoned there revealed that the police in the labor camp once strangled Tan with a cord from behind, almost suffocating her to death. Ms. Tan Yingchun was beaten to death by police and other prisoners because she refused to renounce her faith in Falun Gong. In order to cover up their crime and destroy any evidence, the labor camp only announced her death three days later, and falsely claimed that she committed suicide by hanging herself. However, her neck did not show any ligature marks.[6]
Case 3. Elementary school principal who frequently experienced "cultural revolution" type harassment dies in labor camp
Mr. Zhang Youzhen, an elementary school principal and Falun Gong practitioner, was age 47 at the time he was persecuted to death. Ever since Zhang began practicing Falun Gong, he had been diligent in his teaching career and had successively been recognized as an "Outstanding teacher," "Exceptional worker," and more than 10 other honorary titles. After the persecution of Falun Gong began on July 20, 1999, Zhang experienced persecutions reminiscent of that used during the "cultural revolution." This included being handcuffed in front of tens of thousands at "struggle sessions," being forced to wear a sign in front of him, criticizing him, and being forced to march on the streets to be humiliated by others. He was incarcerated in a labor camp. In April 2002, because Zhang was on the verge of death, the labor camp released him so he could seek medical treatment. However, not long after Zhang returned home, the authorities, under the excuse of the commencement of the 16th National Congress of the Communist Party of China, once again arbitrarily imprisoned him in a labor camp. Within 20 days, he was again persecuted to the brink of death. On June 19, 2002, Zhang passed away.[7]
Case 4. Couple persecuted to death due to beliefs
Falun Gong practitioner He Wanji was a policeman at the Xining railways public security bureau. Due to his practice of Falun Gong, he experienced relentless persecution and arbitrary imprisonment in a labor camp. Later, he was fired from his post at the public security bureau at Xining railways. In July 2002, he took part in injecting the truth about the persecution in TV broadcast in Qinghai and Gansu provinces. As a result, he was sentenced to 17 years in prison on December 30, 2002 and was imprisoned at the Haomen prison in Haibei prefecture. On May 28, 2003, prison authorities suddenly notified Mr. He's family that he had died due to a stroke. His wife Zhao Xiangzhong had been arbitrarily detained in the Qinghai Women's Labor Camp four times and on February 22 of the same year, she was persecuted to death in the labor camp.[8]
2. March 2007 to November 2012: Persecution during tenure in Shaanxi
In March 2007, while Zeng Qinghong was still in power and Jiang Zemin was acting as "the Emperor" ruling from behind, Zhao Leji was transferred to the western province of Shaanxi, a big energy capital, to be the Secretary of the Provincial Party Committee. During the five years Zhao Leji was in Shaanxi, corruption in the area increased drastically. During these five year, Zhao Leji was one of the main instigators responsible for the persecution of Falun Gong in Shaanxi. Shaanxi is not a particularly populous province. Nor is it a province with a lot of Falun Gong practitioners. However, the CCP's persecution of Falun Gong still persists to a shocking degree.
In 2009, Zhao gave a report during the 11th Congress of the Shaanxi Province of the CCP. During the report, he called upon preventing and combating Falun Gong.[9]
During Zhao's tenure, Shaanxi Province persecuted 13 Falun Gong practitioners to death.[10] A partial list of cases of persecution resulting in death are as follows:
Case 1. Mr. Wu Xinming was force fed and tortured to death
On June 15, 2006, Falun Gong practitioner Mr. Wu Xinming was kidnapped and taken to a detention center by the police security bureau and the "610 Office" for spreading information about the persecution of Falun Gong. To pressure him into giving up his faith, police at the labor camp tied him up. To protest against the persecution, Wu Xinming went on a hunger strike. Police forcefully inserted a feeding tube into his stomach and poured down a concentrated concoction of saline, chili powder, and washing powder. Wu Xinming was tortured so that he would have been better off dead. Seeing that he still refused to give in to their demands, labor camp officials came up with another way to torture him. They tied him down and beat him continuously with a length of wire. Not a single part of his body was spared.
Due to the extended torture he endured, Wu Xinming's body collapsed. He vomited blood and his body weight went from 130–140 pounds to skin and bones. Fearing that he would die at the labor camp, his family was notified and told to take him home. On June 26, 2008, as a result of the extensive torture he endured, Wu Xinming passed away, leaving behind a son and a daughter and his elderly parents.[11]
Case 2. Ms. Wei Xinrong was poisoned and died from ulcerate of the lung
Ms. Wei Xinrong, a 49–year–old Falun Gong practitioner, was imprisoned at the Xi'an Women's Labor Camp twice. There, she was beaten, shocked with electric batons, hung from handcuffs, and suffered other forms of torture. After she was injected with unknown drugs and substances were mixed into her food, she fell into a coma for a while. Afterwards, her menstruation stopped, her abdomen swelled up, and her lungs necrosed. She died on the morning of December 1, 2012 at the age of 49.[12]
Case 3. Mr. Wu Songgang, an engineer, was persecuted to death in a brainwashing class after only 15 days
Falun Gong practitioner Mr. Wu Songgang, an engineer at Xi'an High Voltage Electrical Apparatus Research Institute, was kidnapped by police at the end of August 2011. On August 26, he was sent to the Shaanxi Provincial Legal Education Base to attend a brainwashing class (a so–called study session that forces Falun Gong practitioners to give up their faith). Because Mr. Wu Songgang remained steadfast in his faith in "truthfulness, compassion, and tolerance," he was persecuted to death in just 15 days.
Mr. Wu Songgang died at dawn on September 10, 2011. At the time, a loud noise roused a person who was sleeping. A security guard yelled angrily that all doors and windows were to be shut tightly. It wasn't until noon that the security guard shouted again saying that the doors and windows could be opened. Later, it was found that Wu Songgang had been killed at that time. The brainwashing class tried to say that Wu Songgang had died of suicide. They also lied to other Falun Gong practitioners saying that Wu Songgang had converted, given up his faith, and returned home. The class paid the family money to stay quiet about what happened. To this day, no one knows the details of what happened to Wu Songgang.[13]
Case 4. Mr. Gao Shouhai was persecuted to death in prison
Mr. Gao Shouhai, a pharmacist who used to work at the Shannxi Xianyang 704 factory, was arrested by police on May 17, 2008 and subsequently sentenced to 8 years in prison. He was abducted and sent to be persecuted at the Shannxi Weinan Prison in December of the same year. Weinan Prison is where most Falun Gong practitioners are held and persecuted. After being severely persecuted for four years, Gao Shouhai died on May 15, 2012. As Weinan Prison strictly blocked information from leaking out, the details of his persecution have been unknown.[14]
3. After becoming the Secretary of the Central Commission for Discipline Inspection of the Chinese Communist Party, Zhao Leji continued to promote the persecution of Falun Gong
In October 2017, Zhao Leji became a member of the Standing Committee of the Political Bureau of the Chinese Communist Party and Secretary of the Central Commission for Discipline Inspection. Recently, Zhao Leji traveled to a city for purposes of investigation and research. After the secretary of the municipal party committee gave an opening speech and the secretary of the municipal disciplinary committee reported their key work, Zhao Leji requested to hear the work report of the local "610 office." Officials who were present asked, "Hasn't the '610 office' been closed? It doesn't exist independently anymore." Zhao Leji was angry upon hearing this and reprimanded, "We tell internal people and external people different things. This should not be disclosed to the outside world. The announcement that the "610" has been integrated into other branches of the government and does not exist independently anymore is just something we say to placate anti–China forces in the West who are shouting out for human rights and freedom. You actually believe it? As you can see, Falun Gong is still here. Aren't we still going to continue? Work hard. Things need to be done well. It will soon be the 100th anniversary of the party, and it will be a huge celebration! How will we be able to celebrate vigorously if domestic and foreign affairs are in full swing? The Disciplinary Committee needs to handle Falun Gong issue as well in the future."[15]
The CCP's persecution of Falun Gong is being closely implemented in accordance with Zhao Leji's orders. From January to May in 2020, 2,136 Falun Gong practitioners were abducted by the CCP (150 in January, 367 in February, 491 in March, 590 in April, and 538 in May). From January to May, the Communist Party harassed 1,950 Falun Gong practitioners. Among these, Mr. Zhang Zhiwen, a Falun Gong practitioner from Yuzhou City, Henan Province, was kidnapped at home by the police and persecuted to death within three days.[16]
In the first half of 2020, a total of 132 Falun Gong practitioners were wrongfully sentenced. Some were sentenced to prison terms of up to 11 or 12 years. Among these, 24 were elderly people over 65 years of age. Among the Falun Gong practitioners who were wrongfully sentenced were officers of the country's civil services, people with PhD degrees, professors, teachers, police officers, doctors, accountants, translators, and veterans, as well as elites in software development, design, architecture, and other professions.[17]
Among the members of the Standing Committee of the 19th Political Bureau of the Communist Party of China, Zhao Leji, who served as the Secretary of the Central Commission for Discipline Inspection, oversaw political and legal affairs. His words, as reported above, corroborate his position of leadership and therefore his responsibility in the persecution.
-------------------------------------------------
Reference
[1] http://www.zhuichaguoji.org/media/2020/06/10.pdf
[2] http://www.minghui.org/mh/articles/2006/9/4/-137069.html
English: http://www.clearwisdom.net/emh/articles/2006/9/12/77940.html
[3] https://web.archive.org/web/20200602225700/http://www.qh.xinhuanet.com/qwh/zb3.htm
[4] http://globalrescue.hopto.org/unproj/china/passed.jsp?cid=18&s=time
[5] http://www.minghui.org/mh/articles/2002/4/7/28026.html
English: http://www.clearwisdom.net/emh/articles/2002/4/8/20763.html 
[6] http://www.minghui.org/mh/articles/2004/3/9/69506.html
[7] http://www.minghui.org/mh/articles/2005/7/26/107024.html
English: http://www.clearwisdom.net/emh/articles/2005/8/2/63527.html
[8] http://www.minghui.org/mh/articles/2015/12/6/ -320100.html
English: http://en.minghui.org/html/articles/2015/12/7/153991.html
[9]https://web.archive.org/web/20171129060722/http://www.cctv.com/special/shanxilingdaoren/20090416/107917.shtml
[10] http://www.minghui.org/mh/articles/2020/4/21/-404049.html
[11] http://www.minghui.org/mh/articles/2008/7/10/181774.html
English: http://www.clearwisdom.net/emh/articles/2008/7/12/98891.html
[12] http://www.minghui.org/mh/articles/2012/12/9/ -266364.html
English: http://en.minghui.org/html/articles/2012/12/19/136709.html
[13] http://www.minghui.org/mh/articles/2012/7/1/ -259634.html
[14] http://www.minghui.org/mh/articles/2012/6/20/-259145.html
English: http://en.minghui.org/html/articles/2012/6/26/134133.html
[15] http://www.minghui.org/mh/articles/2020/5/31/-407071.html
[16] http://www.minghui.org/mh/articles/2020/6/12/ -407613.html
English: http://en.minghui.org/html/articles/2020/6/20/185587.html
[17] http://www.minghui.org/mh/articles/2020/7/3/-408498.html
English: http://en.minghui.org/html/articles/2020/7/9/185810.html